We live in Bourget, Ontario on 44 acres.  We have a pond + a natural creek through the property, trails and are surrounded by a very large Managed Forest. 
Our litters are born and raised in the house and our two children are a big part of socializing our puppies.
My biggest priority in breeding is for temperament. I want families to have loyal, sociable, fun loving, smart dogs. Where the characteristics of the dog matches the goals, desires and expectations of the family to which the bond and relationship for the life of the dog is a completely amicable and enjoyable chapter of life.  I have bred to older lines hoping to keep the long life and good health of the older generations.  Good temperament through genetics and early learning + good health from older lines and a healthy lifestyle.  
The Girls
Currently, we have 5 girls living with us;  Cookie & Peppermint, Minnie,  Clover  & Tootsie.  
They all live as our pets, living their best country dog life.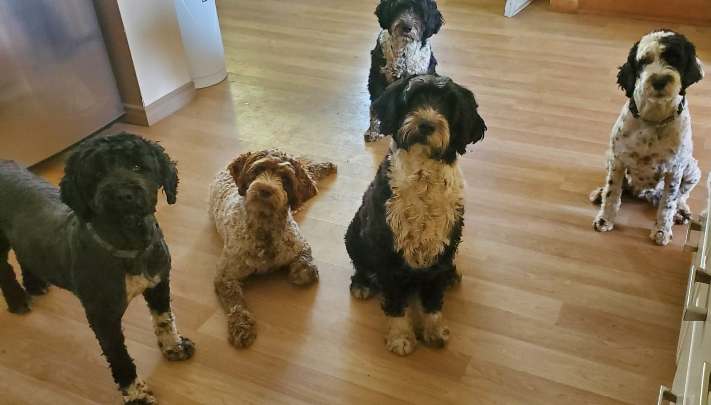 MorFrends Thirteen's Minnie Mouse

(Cherry x Riggs)

The smallest of a litter of 13, she was always so sweet and sensitive.  A black curly girl who stole my heart the day she was born.  

 

 MorFrends Lucky Charm Clover

(Dizzy x Riggs)

A black and silver, smaller female.  Super super sweet, affectionate and all around great family companion.  

 

 

 

 MorFrends Cookies N Cream 'Cookie'

(Alma x Riggs)

Cookie is average size for a female water dog but she is slender.  She is always happy like her Mom was.  She 'talks' and love to fetch in a playful way.  She is very submissive to people. 

 

 

 

 

 

MorFrends Peppermint Patty 'Peppermint'

(Dizzy x Diego)

Peppermint is a beautiful solid girl.  She is a great size with slightly above average height but a great weight (not big and not slight).  She loves to be with people and is very outgoing.  She is confident and athletic. 

 

MorFrends 'Tootsie' Roll

(Clover x Webber)

White and Brown, wavy coat

Sweet, playful, outgoing and fun. 

 

 

MorFrends Thirteen Ziggy

(Cherry x Silverado)

DOB Oct. 19, 2019

Ziggy lives as a beloved pet and family member in Orleans.  She is co-bred with her family and myself.  The puppies are born and raised with her family. 

 

She is sweet, loving, loyal and smart.

She is 40lbs and curly coated. Carries the brown gene.  Clear / normal for everything. Bi-lateral excellent hips. 

 

MorFrends Thirteens Soft 'Ginger' Cookie

(Cherry x Silverado)

Brown wavy coat

She is one of ours who has come back to stay with us temporarily to have puppies. 

Stud Dogs
All The Boys live with their own families but come to visit when the time is right ;) 
 

 

Chiendeauqc Brownies Toblerone "Toby"

(George x Juliette)

DOB May 18, 2018

Brown, Wavy Male

OFA Prelim Hips Good

Clear / Normal for GM1, Prcd, IC, JDCM

 

 MorFrends Rock n Roll All Nite 'Webber'

(Alma x Lindo)

A handsome, well put together boy who is very outgoing.  

Hips by Dvm Fabienne Renaud "Bilateral Excellent"

Clear / Normal for Prcd, JDCM and GM1

Carrier for IC

Carries brown 

Wavy coat

 

 

 

MorFrends Trick or Treat 'Charlie' 

(Alma x Toby)

Full of expression and character, well put together, 60lbs.  

Hips by Dvm Fabienne Renaud "Bilateral Excellent"

Clear / Normal for Prcd, JDCM and GM1

Carrier for IC 

Wavy coat

 

 

 

MorFrends Cinnamon Toast Crunch 'Walter'

Wally is the sweetest thing. He is an intelligent boy who always has enough energy for play time. He loves his humans and although he's a bit shy, is incredibly sociable and gentle with all people. 

As for shyness, he's never the dog to get in there and play with other dogs. He prefers heading right to the people where he'll get some love. That is, unless he's decided that this will be how it is!!! 

 

With people, he generally takes a moment to size them up, then he's all "hi….I'm adorable….you're going to want to pet me so I'll just tuck myself right in here against you". In a crowd, he makes sure to go up to everyone so they can pet him.

Hips by Dvm Fabienne Renaud "Right hip Excellent, Left hip good"

Clear / Normal for Prcd, GM1 and IC

Clear for JDCM by parentage

Wavy Coat, 56lbs

 

 

 

Can. CH. MorFrends Wild Black Currant "George"

Neutered

(Grace x Blue)

DOB. May 27, 2012

Black, Curly Male.  Carries brown, large male, big bone, nice head, athletic and throws amazing, willing, obedient temperament.

Clear / Normal for everything.  OFA 'good' hips